NOTES/QUOTES #7: Nightmare on 44 Street; media bailout ballyhoo; and women in politics
The view from my apartment window is one of the best in the city.
From my perch in Watermark Tower — I am blessed to be able to live in such a nice place, I say that to myself every day — I wake up to stunning sunrises, watch storm fronts move over Yellowknife Bay and see ravens or gulls up close as they soar through the air.
In winter, I watch the endless parade of vehicles on the Dettah Ice Road, including tour busses full of vacationers. In summer, I see houseboaters commuting via watercraft and fishing boats heading out for their daily catch.
And on occasion, I see other events.
I've watched horrible building fires in the distance, the smoke drifting upwards, along with the hopes and dreams of the people who have lost possessions.
And twice recently, I've seen vehicle crashes off of 44 Street — a steep winding road connecting 52 Avenue and School Draw Avenue.
For the record, I don't add the 'st' or 'nd' to street names in the city. I've written about this before. Some street signs show both versions, as do some maps.
But the numbers alone seem to be the more favoured version.
Just another oddity in the Capital of Quirkiness.
But I digress.
The two vehicular incidents were quite different in nature. One was the end of an RCMP chase, the end of a city-wide manhunt.
The other, on Jan. 23, appeared to be when an older SUV lost control and crashed through the guardrail on the street. The SUV ended up in an apartment complex parking lot.
I watched from my den window as police interviewed witnesses and as emergency personnel extricated the driver. I haven't followed up on that MVA. But I think it shows the existing guardrail needs to be lengthened higher up the road, as you can see from the photo.
I have always enjoyed living in apartment towers. I lived very high up in a couple in downtown Winnipeg during my years there.
My time as a homeowner has passed. I have owned a home twice in my life. I no longer wish to shovel snow, mow a lawn or be responsible for household repairs.
I enjoy having a bird's eye view of the community I live in.
And it's also interesting having news happen within the reach of my telephoto lenses.
—
In the recent federal budget, it was announced the Liberal government plans to offer financial support to the nation's struggling private journalism sector.
Supporting Canadian Journalism is a program that will provide a tax credit for "journalism organizations," a subsidy for digital news subscribers and the opportunity for news organizations that register as non-profits to receive charitable tax status.
It will total $595 million over the next five years and is, apparently, being done in response to concerns "the quality and quantity of news (especially local news) would suffer without government intervention," reported Canadaland.
This has left a few media watchers wringing their hands, such as J-Source, which stated the program is "an approach that favours legacy media and may leave some of the country's scrappiest and most noteworthy startups in worse shape, relative to their old-guard competitors."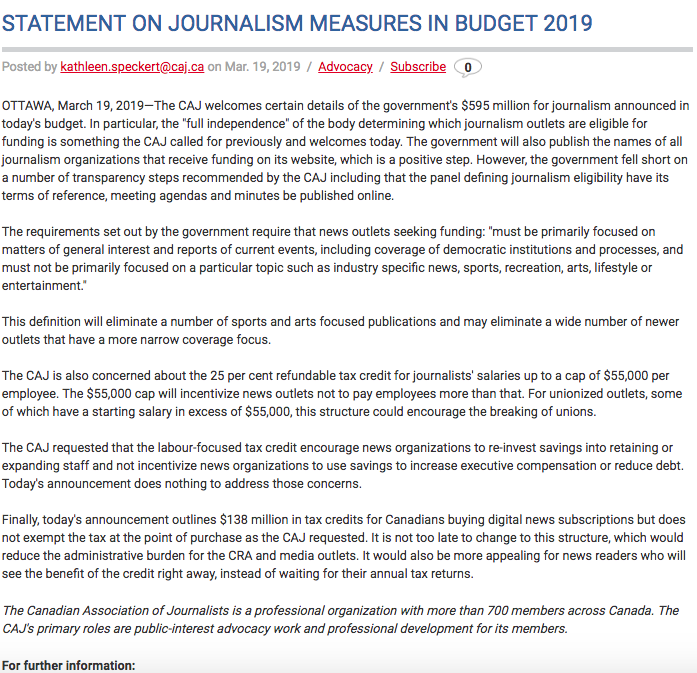 The Canadian Association of Journalists stated: "The requirements set out by the government require that news outlets seeking funding: 'must be primarily focused on matters of general interest and reports of current events, including coverage of democratic institutions and processes, and must not be primarily focused on a particular topic such as industry specific news, sports, recreation, arts, lifestyle or entertainment.'
"This definition will eliminate a number of sports and arts focused publications and may eliminate a wide number of newer outlets that have a more narrow coverage focus."
Well, that's the point of the Liberals government's plan, isn't it? The government is concerned about regions of the country being underserved as legacy newspapers fail. This is especially true in several medium-sized communities across the country, some of which are now local-news deserts.
The only available news source that might offer at least some regional coverage is CBC, which is a biased organization not offering universal, objective coverage of items of interest to everyone.
However, I am concerned with one aspect of the new plan — "an independent panel from the journalism community will define eligibility for the tax credit."
How will this panel be selected? If the "independent panel" ends up being filled with Liberal Party hacks, then the entire process will leave us with a suffocating blanket of mini-CBCs across the land.
Another issue of concern was highlighted by Ollie Williams at Cabin Radio. It is the community-driven upstart news and entertainment source for NWT headquartered in Yellowknife. It is almost completely dependent on volunteers, such as myself.
The federal program requires "qualifying media" to have to employ more than two journalists as employees.
In a March 19 tweet, Williams stated: "Cannot wait to see if Cabin Radio qualifies. Suspect I know the answer. Not convinced the fund factors in newsrooms where one reporter does another job full-time so they can do journalism, one is entirely paid for by the public and one does it for free because they felt like it.
Those three people are Williams, reporter Sarah Pruys and myself. So yes, I have a vested interest in how this program will role out.
It could be a solid support for Canadian journalism, or a Liberal end-run on free speech.
—
As Meaghan Richens recently reported in the Yellowknifer, the legislative assembly passed a series of motions aimed at removing barriers that could prevent women from running for office.
They stemmed from recommendations out of the Special Committee to Increase the Representation of Women in the Legislative Assembly.
Those referenced child-care expenses and adding a family room with a change table and allowing up to four months leave with no financial penalty following birth or adoption.
Yellowknifer reported the NWT has the lowest number of female politicians of any Canadian legislature, with two women elected as MLAs.
In March 2018, the assembly adopted a motion to increase representation of women in the legislative assembly to 20 per cent by 2023 and 30 per cent by 2027, Yellowknifer reported.
Now obviously, in an ideal world, public bodies would represent the demographics of the communities they serve.
But how to get there? That's the problem.
I note that in the last NWT municipal elections, the voters elected many women into office, including Mayor Rebecca Alty in Yellowknife.
It's one thing to persuade women to throw their hats into the ring. It's another to get voters to select them.
It comes down to what each candidate has to offer. So I suggest female candidates secure all the help and advice they can. More campaign schools for women are an excellent idea.
My question is, when 2023 rolls around, what happens if their aren't 20 per cent of women in the assembly?
The worst thing for democracy would be to have some form of a forced quota system, where an unelected woman gets to sit as an MLA.